After 38 days of every day revision with Memrise, I feel like I'm finally all caught up with Unit 1 and can now move onto revision of Unit 2 🙂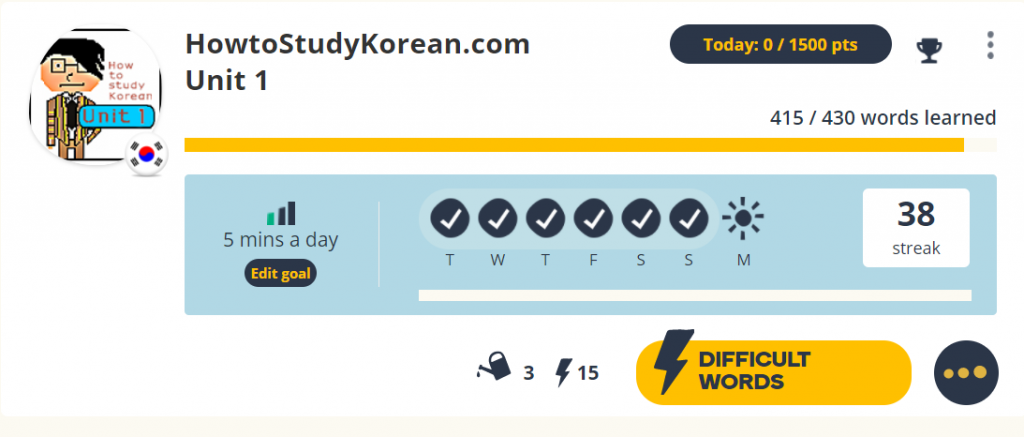 Last week I was pretty good with Korean – I had 2 language exchange calls, wrote a small text in my notebook, and got through Unit 1 of this book, revised 8 grammar patterns and did a test at the end of the unit, which was very hard, but I got just 2 questions wrong (out of 12), so I feel pretty good about it!
However, yesterday I did 2 crazy things which I was not planning to do – I signed for HSKK, the oral Chinese speaking test, intermediate level. I checked mock tests and they seemed quite manageable, however, as I started reading more about the test I got a little bit more intimated, but I don't wanna turn back, I want to have a go! Even if I fail, there's another one in June and the test fee is only 20 euros (unlike English certificates, which can cost from 200 to 300 euros). So now I have to go through the HSK 3 and HSK 4 vocab, as well as schedule some practice sessions. Fun, fun fun!
I think I mentioned here a few times that my Chinesepod subscription ended last week and I was not planning on renewing it in order to save money. However, yesterday I got a newsletter from Du Chinese with a very good discount thanks to Chinese New Year, so I couldn't resist and bought a one year subscription 🙂 Du Chinese is a website mostly for learning how to read Chinese characters, and even though one year ago I kept saying that reading characters is not for me, I feel like I can finally start working on it. Actually, I really want to learn to read and write in Chinese and I hope that with DuChinese I will be able to get a little closer to that goal.